Ford Flex Air Filter at Ford of Orange Near Irvine, CA 92618
Just like your home's air filter needs to be changed periodically, your car requires the same service as well. That is why it's important to know when it's time to get a Ford Flex air filter replacement at Ford of Orange near Irvine, CA 92618 by our expert technicians in our Service Department
It's a well-known fact that all internal combustion engines need air to complete the process that makes your car operate. However, unwanted particles such as dirt, dust, grime, water, and even bugs, can make their way into the engine through the air intake, which can lead to problems like abrasion, corrosion, or build-up. This is why cars come with an air filter. The air filter prevents contaminants from passing into the piston chambers by trapping all of these impurities. Over time, this barrier will start getting dirty to the point where it needs to be changed out altogether.
But why is it so important to have the filter replaced? It's because having a filthy air filter is essentially like suffocating your engine. The more saturated with grime it gets, the more it restricts the passage of air flow. A filthy and clogged air filter can cause a myriad of problems, like poor performance, depreciated fuel mileage, and reduced engine life.
Since the air filter is such an important part that contributes to your car's efficiency to burn fuel, it's important to make a service appointment for your Ford Flex at Ford of Orange near Irvine, CA 92618. Not all vehicles are created the same, though, which is why it is suggested that you check the type of filter that your car needs, as well as how often it needs to be inspected and/or replaced. The easiest way is to look it up in your Owner's Manual. Air filters can be made of paper, foam, or cotton. Also, air filter housings may have simple fasteners and be easy to access, but others may require tools like screwdrivers, wrenches, or sockets. Some fastener types may come in the form of cartridges, screws, snaps, or buckles. Each presentation can vary according to brand, model, and year of the vehicle in question, but we can do it all here at Ford of Orange near Irvine, CA 92618.
So, make sure you take advantage of our Ford Flex air filter replacement service at Ford of Orange near Irvine, CA 92618. Here at Ford of Orange we have the part that fits your car and trained technicians to guarantee a professional job in every service.
Take the next step
Service Hours
| | |
| --- | --- |
| Monday | 7:00 am - 6:00 pm |
| Tuesday | 7:00 am - 6:00 pm |
| Wednesday | 7:00 am - 6:00 pm |
| Thursday | 7:00 am - 6:00 pm |
| Friday | 7:00 am - 6:00 pm |
| Saturday | 7:00 am - 4:00 pm |
| Sunday | Closed |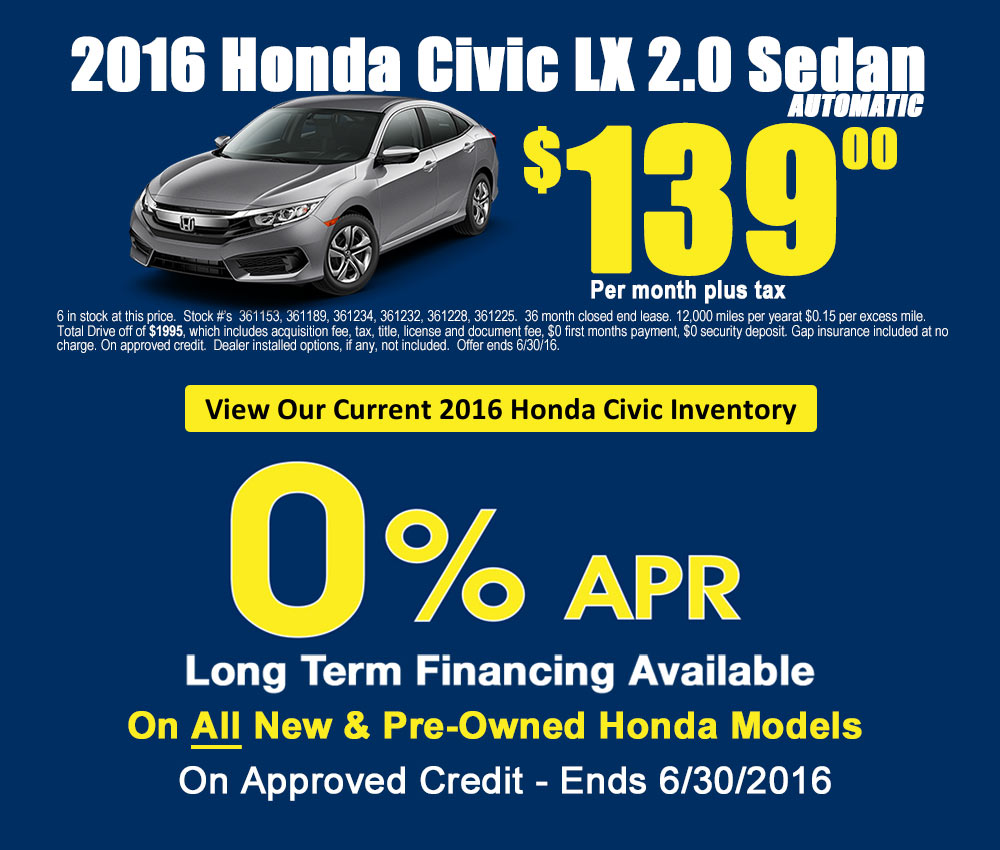 2016 Honda Civic Sedan
2016 Honda Civic
2016 Honda Civic
2016 Honda Civic
2016 Honda Civic Coupe
2016 Honda Civic
Be sure to stop by Honda World Westminster and take a look at our large inventory of new 2016 Honda Civic Sedan and Coupe models to choose from. You can browse our current 2016 Honda Civic inventory. Honda World Westminster is located just minutes from anywhere in Orange County.
Ford of Orange
1350 West Katella Ave
Orange, CA 92867 Get Directions